Evening. Had lots of thoughts between last night and tonight's blog but can't seem to remember any of them! Firstly, can I
say thank you to all for the lovely messages I've had about the blog so far! It's really spurred me on. Secondly, I'm having a few teething troubles embedding the comments box under the blog, so to comment, you actually need to click on the word 'comment'!
Now the housekeeping is out of the way, I can get onto more important things - like this evening's meal! I arrived home with a little knot of unhappiness in my tummy as I knew there was virtually nothing in the fridge, and I really didn't want to have to call in to buy supplies on the way home. So, I was all set for one of my 'Bottom of the Fridge' specialities. If you're not sure what I mean by this, let me enlighten you! 'Bottom of the Fridge' specials do exactly what they say on the tin - it's really a way of using up all those bits and pieces in the veg. compartment that you don't have enough of to contribute as a portion in a meal. Usually, bottom of the fridge rice (salad) is the order of the day. Simply slice and fry off
anything
left over (peppers, onions, leek, carrots, mushrooms, etc.), add seasoning, garden herbs and whatever other flavours are to hand, and mix with the cooked rice! Despite its name, its
scrummy
!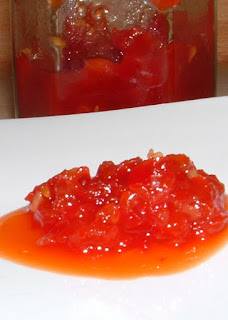 Sorry, little digression there! Back to the point: I was just about the begin this process, adding in chorizo and turning it into a risotto of some sort, when I received a phone call from mum. She suggested - and its a dinner I'd sort of forgotten about - making a Spanish-type omelette.


Spanish Omelette

bottom of the fridge vegetables
potato
onion
bacon/sausage/chorizo
eggs + milk

Cube and cook the potatoes. Meanwhile, fry off your meat, then veg. Combine all in the non-stick frying pan. Beat the eggs with a little milk and add to the pan. fry over a medium heat until the bottom has set and the top is still runny. Add grated cheese (if you can find an odd chunk in the fridge!) and pop under the grill to finish. Serve with salad - except we didn't have any tonight. Instead I added a dollop of homemade hot chilli jam - delicious! (Click here for recipe or see recipe links on right - if you don't like it hot, remove the seeds first.)

You may have noticed I don't include quantities in my recipes - the reasons being we all have different tastes and you know what you like and don't like!

I've got nothing planned for the weekend and am really looking forward to making a delicious meal tomorrow night. I'm hoping to start with 'Pot au Feu' haddock; my mouth's watering already!

A demain,

Merlotti x