Review
Sweet and Sour Pork Balls
Plain Chow Main
Egg Fried Rice
From
: Canton Chef, Chelmsford
Cost
: £8.20
What you get:
13 (!) pork balls in batter, a large portion of egg fried rice, a large portion of plain chow mein.
Taste
:
Very good. The chow mein is one of my favourites. It doesn't use the thin noodles, but the thicker ones with a good helping of beansprouts. On occasions it has been 'over-peppery' but last night's was just right - enough to give it a good taste and a bit of spice. The pork balls were also well cooked - a thin, crispy batter without too much 'uncooked' batter on the inside and, unlike some take-aways, the pork was tender, rather than overcooked, tough and chewy. Egg fried rice is egg fried rice and no complaints.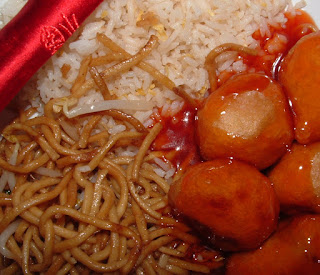 Value for Money:
I would say it was very good value for money. Although I just had 'the basics', it was plenty for two people, as proved by my boyfriend when he ate a full meal of left-overs for breakfast this morning. I also snuck second helpings of everything last night too!