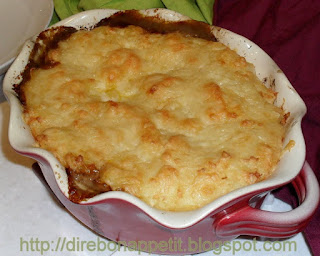 Definitely an all time classic and something I make many times a year as it's so easy and so scrummy every time! It's one of those recipes you can adapt and play with as you like, but mine goes something like this...
Ingredients:
lean steak mince
onions - cut as you wish
carrots - diced small
beef stock cube
red wine
brown sauce (HP, not Daddies!)
seasoning
mash
First, fry off the mince until browned.
Remove from the pan and use the juices to fry off the onions and carrots until just tender.
Return the mince to the pan, crumble in a stock cube, pour over a good glug of red wine, add a splodge of HP and stir. Let simmer until the meat is cooked through and a thick gravy has formed. If necessary, add a little more wine or water.
Put mixture into a large oven-proof dish and dollop mash over the top. cover with cheese and heat til hot and the cheese bubbles and browns.
Serve with crusty bread to mop up the sauce!