Ok, so I'm fairly certain on the main ideas for the Come Dine with Me session! And I think I've made a decision on the third amuse-bouche: a cold tomato / chilli gazpacho. What do you think?

One thing I've been looking for is little amuse-bouche serving things! I've found several, in France and the USA, but very few exciting ones in the UK.

These are lovely but the shipping is going to be $45 - too much! I do have a friend who's offered to get them for me, and we can get them home at new year, but I need them for November! I am interested in the description of them though: white interactive stoneware! Do they talk to you, respond when heated with a sharp cry?
I also like the idea of these little plate-type things. But, yes, once again there's a but, you can only order 4 at a time and have to pay separate shipping on each parcel. Boo!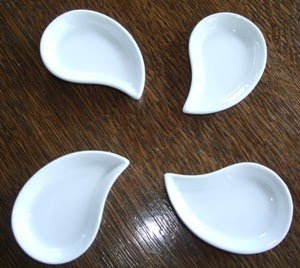 In the end, I've gone for these: simple and effective I think, and, the only ones at a decent price. Think they'll look effective on black slate; the next challenge beckons!