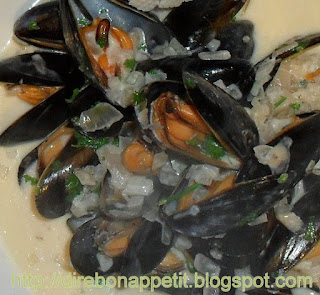 I just saw these delicious little lovelies and decided impulsively we'd have them for Saturday night tea! After visiting France many times, I have become 'used' to these; I used to hate them, the texture you see, not the taste, but over the years, a bit like Professor Higgins did with Eliza Doolittle, I've become accustomed to their faces!
During the summer, when the tourists are about, this is often called Moules Mariniere, but it reverts to its more traditional names of Moules Poulettes once the tourists have dispersed! It's basically mussels steamed in white wine with onions / shallots and cream. Easy and delicious.
Begin by softening the finely diced shallots and garlic in butter. Meanwhile, clean the mussels by removing the beard and rinsing through with cold water. Tap each one firmly to ensue it closes. If it doesn't, it's dead and needs throwing away. Do not cook mussels that don't close before cooking.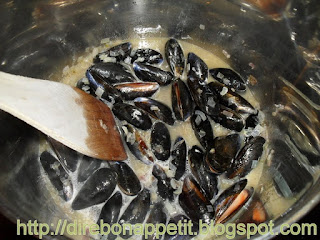 Once the onions have softened, add the cleaned mussels with a good splash (a large glass) of crisp white wine. Cover with a lid and steam for about 5 minutes. Once the mussels have opened and are hot, pour in some cream, add chopped parsley, season well and serve immediately in a large bowl with a glass of chilled wine and crusty french bread.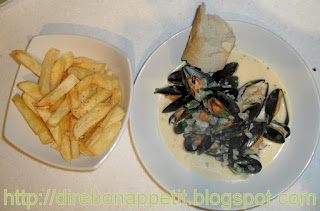 I served with an Australian Sauvignon Blanc, which was perfect.